Nicki Minaj shakes her derrière in her most not-safe-for-work video to promote her new song, "Yikes."
For the benefit of her 110 million followers on Instagram, the American-Trinidadian rapper shared the racy video clip of herself dancing to her first solo song of 2020 records, which was be released on February 7.
In the footage, Nicki Minaj can be seen jiggling her asset on a bed in a curve-hugging dress. At one point, her famous rear-end completely pops out of the dress.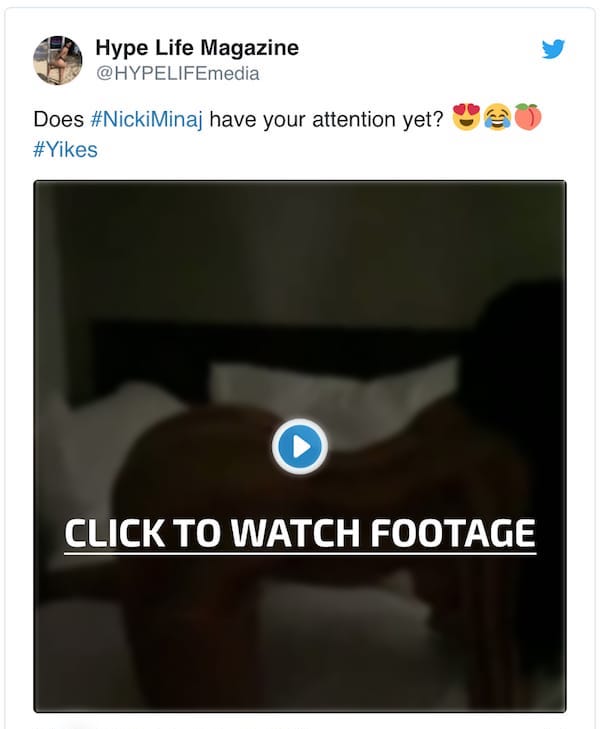 "Hoe sh*t?" she captioned to post, along with a tongue-out laughing emoji, before changing it to "Yikes what's the hype? This is smthn light ?".
Fans of the rapper couldn't contain themselves after watching the video with MTV's official account even chiming in.
"am I allowed to like this?" the New York City-based American music channel asked.
The controversial post even caught the eye of Reality TV star Bethany Frankel.
"Skills," the "Real Housewives of New York' actress simply commented.
"Don't try this if your mattress is on the floor ladies, it's not good for your knees," one fan wrote.
"The lights coming on at the end giving us the ultimate look took me out!" another added.
"HAHAHA MY HEART DROPPED WHEN THE DRESS FLEW OFF THAT A$$," another user expressed.
Last week, Nicki Minaj admitted that she's '20 pounds away' from reaching her goal weight while chatting on her first Queen Radio episode of 2020.
The release of "Yikes" comes after the "Anaconda" singer's Twitter spat with ex Meek Mill on February 5. The two tossed accusations at each other, with Minaj alleging that the "Believe" rapper beat women and Meek calling out Minaj for defending her brother, who was recently convicted of raping a minor and sentenced to 25 years to life in prison.
"Yikes" follows the release of her song "Tusa" with Karol G in November and "Megatron" last year June. She was also featured on Meghan Trainor's track "Nice to Meet Ya," which dropped earlier this month.
On Tuesday, Feb. 10, while chatting on her first Queen Radio episode of 2020, Nicki Minaj talked about wedding planning, new music, keeping her personal life a little more private this year and her commitment to feeling comfortable in her body.
"I was trying to do this diet and I kept putting it off. I didn't think I could have the discipline in what I ate. Once my mind was committed to it, my body committed to it. I'm still 20 pounds away from my goal weight," she said.
"This has been one of my favorite years so far, I realized I unlocked the lock. I realized that success starts inside you, it doesn't start with success. Success doesn't start with success, meaning I don't have to be the number one female rapper. I have to know I can be the number one female rapper," Nicki added.