Cecile showed off her busty chest in a bikini top while revealing that she has gained extra weight in the midst of the COVID-19 quarantine.
Taking to social media on Monday (April 6), the Dancehall artiste shared a video of herself sporting a multi-colored two-piece swimwear at the pool.
While Cecile is silent in the footage, the "Hot Like We" singer, in the caption, indicates that she has been consuming more food than usual while skipping her workout sessions in light of the quarantine during the coronavirus pandemic.
"3 weeks later… Fridge/stove visits: 15 times per day. Workouts: zilch … BMI- mi rawse, the 46-year-old entertainer wrote on the Instagram post, followed by the hashtag #DuttyCorona and #FatAF.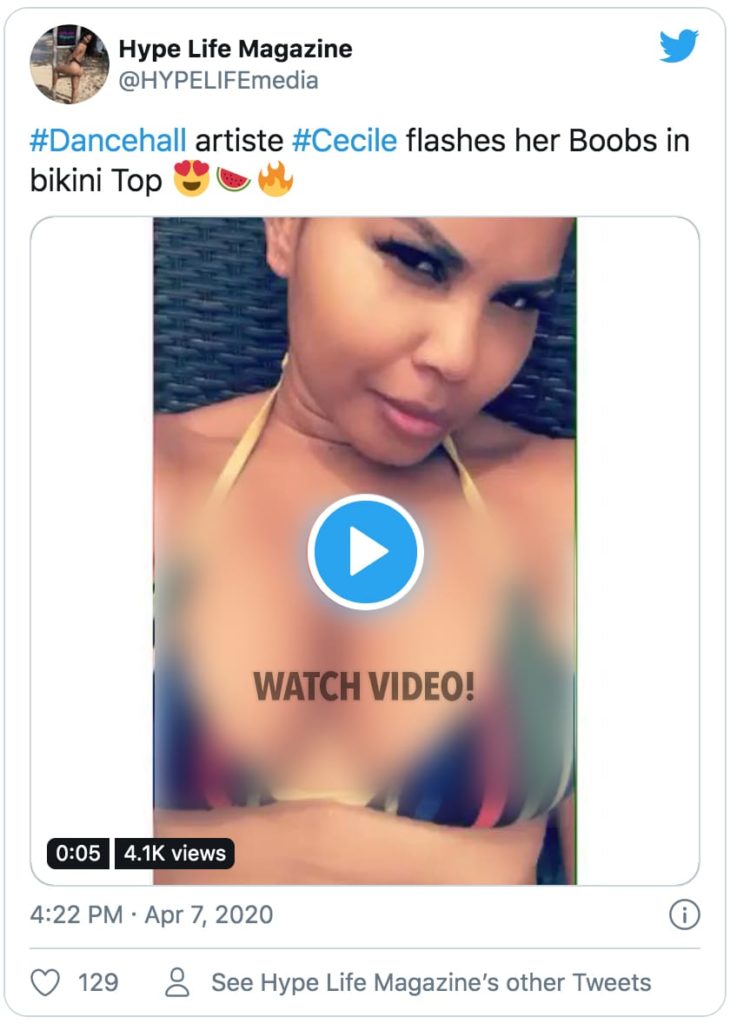 The video, which has since racked up 36K views, attracted many likes and comments as fans marveled over the Jamaican singer's "clean skin" and "juicy body."
"Yes goodie skin cleannnnnnnnn and pretty ???," one user commented.
"God damn you're so beautiful with a nice juicy body ??????," another wrote.
"Look better than the young woman Dem … ????? Looks like you just turned 18," a fan added.
Cecile has apparently been taking a serious approach towards the COVID-19 outbreak.
The "Bad Gyal" singer has already posted illustrations about social distancing and encouraged her social media followers to stay home.
"I think i understand the need for us to stay home at this time. We like to blame Govt for everything but this isn't their (or us) fault n they r trying their best to help stop the spread. It is going to get worst. Things are going to get worst. No where in the world has been doing enough testing (everything short) n we r no different. So lets be smart. Lets help contain this thing n hope we all manage in these unprecedented circumstances. Try writing, cooking (nuh mi) exercising ???, giving moral support, baking, sewing, designing, DIYs (youtube) or whatever you can do to keep your mind off the future. Take it one day at a time n try not to panic (words to myself) ❤️❤️❤️❤️. THANKS TO ALL THE NURSES, DOCTORS n OTHER HEALTH CARE WORKERS, PHARMACY, SUPERMARKET, POLICE FORCE, TAXI MAN, etc etc." she wrote in a post via Instagram on March 26.
Cecile, who is the mother to one of Jamaican singer Chris Martin's children, also has been sharing videos of her daughter Christiyana performing gymnastics moves at home.
As a recording artiste, she injected satire in her lyrical presentations, "Changez," released in the early 2000s, one of the first tracks to set that side of CeCile on exhibition. Not long after, she boarded the Liquid Riddim with Sean Paul for "Can You Do The Work," which was a testament to her bad girl demeanor. It secured international success as one of the tracks featured on the Grammy Award-winning, multi-platinum-selling album, "Dutty Rock." She has a wide catalog of Dancehall and Reggae music, some of which she produced herself. As of last year, she became a children's book author.