Should Vybz Kartel and Alkaline do a collaboration, many Dancehall fans will be here for it!
A Jamaican visual designer recently went viral on social media after expressing that it would be a dream come true if the longtime rivals should record a song together.
On Thursday (Nov. 21), a screenshot of the Twitter post began to make rounds online and supporters of the Jamaican entertainers weighed in on the topic.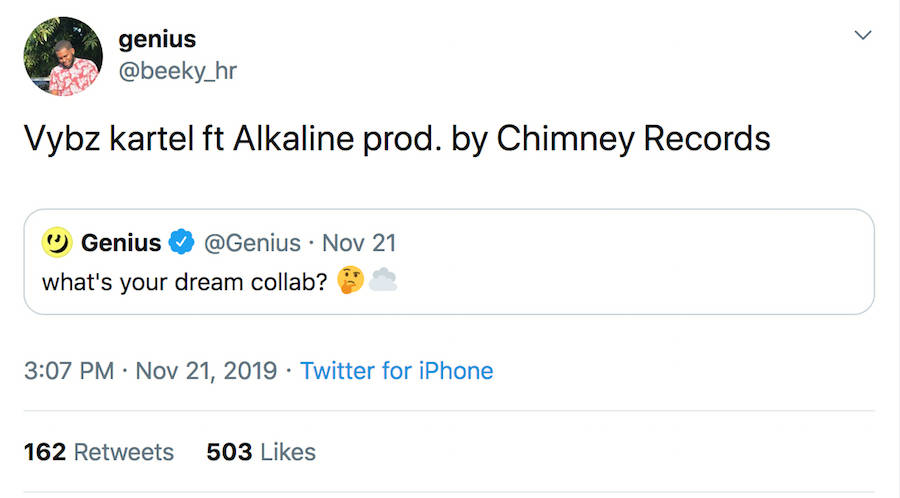 While many users were adamant that a collaboration between Vybz Kartel and Alkaline would never happen, others were in support of the idea. The tweet has since received 162 retweets and 503 likes.
"Bawda cat voice Dat naa go happen and uh will never live fi c dat happen," a user responded.
"Yo a Vybz Kartel and Alkaline collab would definitely create history inna Dancehall if unu check the levels. Wow I'm here for it! mi love the two a dem bad can we make this happen?" one commented.
"The YouTube views nah go normal," another added.
"Now this is what mi a talk bout Unity. Hope dem can end dem beef and do this for the fans," the comments continued.
Vybz Kartel is expected to release a new album in January 2020. The announcement was made via his Instagram account and the title of the album was given as "Exiled Pharaoh."
"Album soon drop… lovers setting… GAZANATION unu ready?… January 2020," said the post.
The incarcerated deejay, who continues to make big waves in the music and entertainment industry despite being sentenced since 2014, has recently released "Scorched Earth," "Brave," and "Great."
Alkaline has dropped new singles, "Big Tyma" and "Nothing Nuh Change."