Dancehall star Popcaan was recently featured on BuzzFeed's Tasty platform, showcasing his skills in cooking traditional Jamaican cuisine, curry chicken and white rice.
In footage shared by ZJ Sparks, the "Wine All Day" deejay can be seen in an all-white "Unruly Chef" ensemble with a red bandana tied around his neck, exhibiting steps to preparing the meal in the kitchen.
Popcaan Reveals His 'Curry Chicken And Rice' Recipe
Popcaan revealed his recipe and the full process, from seasoning his chicken with chicken bouillon, grated ginger, garlic cloves, kosher salt, and curry powder to "burning the curry powder" in a dutch pot of hot oil and putting in the chicken before adding scallion, onions, bell peppers, carrots, potatoes, thyme, pimento seeds, scotch bonnet pepper, and water.
"Yow… Super chef in the kitchen today," he said following outcome.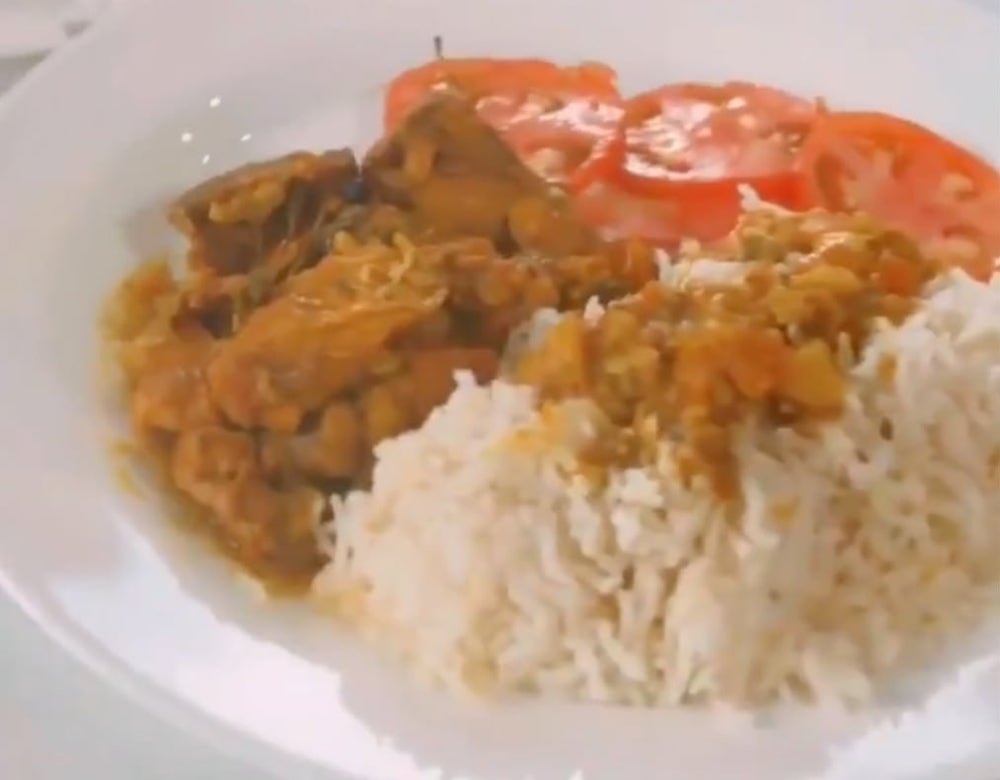 Jamaican Curry Chicken and Rice Recipe
See the recipe for Jamaican curry chicken and white rice, courtesy of BuzzFeed's Tasty.
2 lb bone in chicken thighs and breasts (910 g)
2 cups cold water (480 mL), plus more for soaking chicken
4 tablespoons apple cider vinegar
1 ½ tablespoons chicken bouillon, seasoning
1 fresh ginger, grated 1 in (2.5 cm)
3 cloves garlic, smashed
1 ½ teaspoons kosher salt
2 tablespoons curry powder, divided
2 tablespoons vegetable oil, or canola oil
1 scotch bonnet pepper
1 medium yellow squash, diced
3 scallions, ends trimmed and cut into 1/2 in (2.4 cm) pieces
3 medium carrots, cut into 1 in (2.4 cm) pieces
1 russet potato, peeled, cut into 1 in (2.4 cm) pieces
1 red bell pepper, seeded, cut into 1 in (2.4 cm) pieces
3 sprigs fresh thyme
1 teaspoon whole allspice berry
steamed rice, for serving
tomato, sliced, for serving
---
Remove the skin from the chicken. Using a large, heavy knife or cleaver, cut the chicken into 1½–2-inch pieces.
Add the chicken to a large bowl and cover with cold water. Add 2 tablespoons of apple cider vinegar and mix together. Rub the chicken to remove any impurities. Let soak for 10–15 minutes. Drain the water from the chicken, then add fresh cold water to cover, along with the remaining 2 tablespoons apple cider vinegar. Mix together and set aside for 10–15 minutes more. Drain.
Transfer the chicken to a clean bowl and coat with the all-purpose seasoning and 1½ tablespoons curry powder. Using a gloved hand, rub the seasonings all over the chicken. Cover the bowl and refrigerate for 30–60 minutes.
Heat the oil in a large pot over medium heat until shimmering. Add the remaining ½ tablespoon curry powder and fry for 1 minute, until beginning to burn.
Add the chicken to the pot, cover, and cook until almost dry, 8–10 minutes, stirring halfway through.
Add the scallions, carrots, Scotch bonnet, potato, bell pepper, thyme, allspice, and 2 cups cold water. Cover and cook for 20 minutes, until the vegetables are cooked through and the chicken is tender.
Serve the chicken with steamed rice and sliced tomato.
Enjoy!