Vybz Kartel's Appeal Ruling At 'Advanced Stage'
Vybz Kartel's murder appeal verdict is at an advanced stage, Jamaica's Court of Appeal indicated.

Photo credit: Urban Islandz
The Court of Appeal has indicated that the preparation of its ruling on the appeal of Vybz Kartel's murder conviction is at an advanced stage.
The three judges made the declaration via the Appeal Court registrar, in response to a letter from the Dancehall artiste's lead Attorney, Queen's Counsel Tom Tavares Finson, enquiring about the lengthy delay in the judgment.
On November 21, Mr. Tavares Finson wrote to Court of Appeal President, Justice Dennis Morrison, and enquired about the year-and-a-half delay in the ruling being handed down, according to Nation Wide Radio.
Appeal Court Judges via the Court Registrar responded to Mr. Tavares Finson and other attorneys for Vybz Kartel and his co-appellants.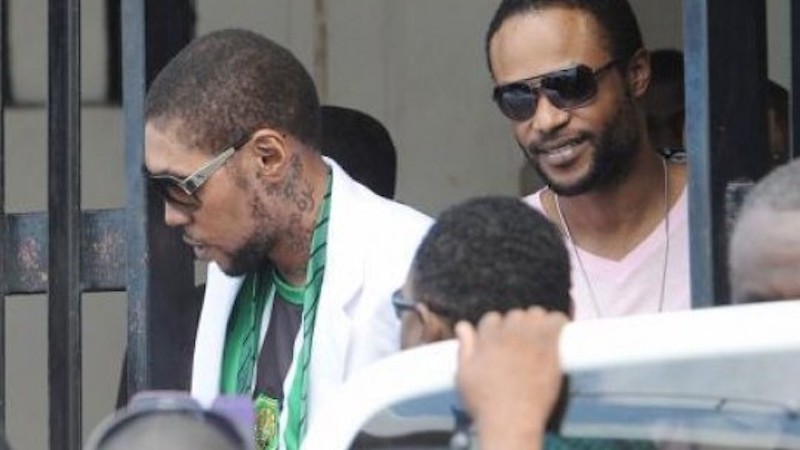 In a letter dated December 2, the registrar, Stacie-Anne Brown, told Mr. Tavares Finson that she has been directed to inform him and Attorneys for Kartel's co-appellants that the finalization of the judgment is at an advanced stage. The registrar told Tavares Finson that as soon as the judgment is ready and a delivery date set, all parties will be advised.
"I am directed to advise that the judgement herein is at an advanced stage of preparation," stated the registrar in the letter, adding "As soon as it is ready and the court has set a delivery date, all the parties will be duly notified."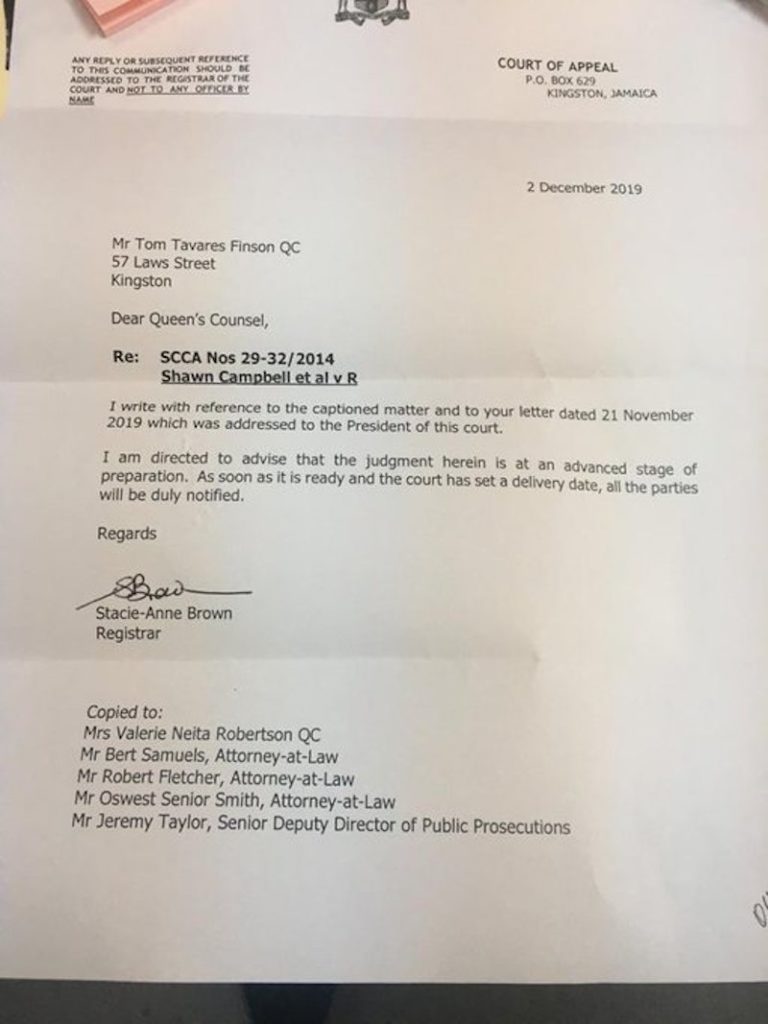 Fanatics of Vybz Kartel, whose real name is Adidja Azim Palmer, have been waiting for 18-months to hear the Court of Appeal's verdict. However, it seems the wait is almost over.
Valerie-Neita Robertson, who represents Palmer, told the Jamaica STAR that she was excited at the news that the appeal is now at an advanced stage.
"That is extremely good news. It has been a long time, it has been a year. I know that they (the court) have been overloaded, so I am very happy to hear it is time. I am excited," she reportedly told the publication.
While she is still hoping that the verdict will be announced in December, she stated that she would be very surprised if this was actually done.
"If we are lucky, we will get it for December. They (the court) probably go up to the 20th of December and then they close for the Christmas occasion. If so, I expect it in the middle of January. So this is very good news. I am looking forward to it. When you work hard on a matter, which we did, we are eager to hear the results," she added.
In July 2018, when prosecutors made their case to the Court of Appeal, they urged the tribunal to rule that a sufficient case has not been made out by defense lawyers for them to free Vybz Kartel.
The Court of Appeal, during the hearing, accepted an application by defense lawyers for four pieces of new evidence to be considered in the appeal. The lawyers also argued that meta-data from Kartel's phone didn't place him at the crime scene.
At the end of the hearing, the Court of Appeal said their decision would have been handed down later that same year. Eighteen months on the first indication that the decision is imminent has arrived.
Vybz Kartel and his co-accused Shawn Campbell, Kahira Jones, and Andre St John were convicted in 2014 for the 2011 murder of Clive 'Lizard' Williams. They were all given mandatory life sentences.
The "Any Weather" deejay was ordered to serve 35 years before being eligible for parole while Campbell, Jones and St John were ordered to each serve 25 years before they become eligible for parole.
David Meikle
Founder, Creative Director, and Editor at Hype Life Magazine, overseeing content marketing, advertising, web design, social media, and search engine optimization.