Vanessa Hudgens looks lovely in a string bikini in the promotional snaps for her new collaboration with Kate Hudson's Fabletics.
The Vanessa Hudgens' Spring/Summer 2022 limited collection dubbed "The Sun-Daze Collection," her first-ever collaboration with Kate Hudson's brand Fabletics, was launched on April 1.
In a carousel Instagram post, Vanessa announced the launch of her new line collection which includes a colorful and fun mix of activewear, loungewear separates, and swimwear.
"Introducing my first-ever @fabletics collection: The Sun-Daze Collection!!!! 🤩This has been months in the making and now you can OFFICIALLY go check it out. 💜💜 ," she captioned the photos.
"Mixed with lifestyle and performance pieces, I wanted this collection to be something you can wear out with friends, while working out, sitting poolside, doing your errands and everything in between! Each style, color, fabric, buttons, patches and so on are all hand-picked by me and I hope you love them as much as I do. 🥰," she added.
In the photograph, Vanessa Hudgens can be seen wearing a leopard print 'Foxy 2-Piece' bikini with neon accents (VIP US$49.95; Retail Guest US$89.90) from the collection while she lounged on a pool chair.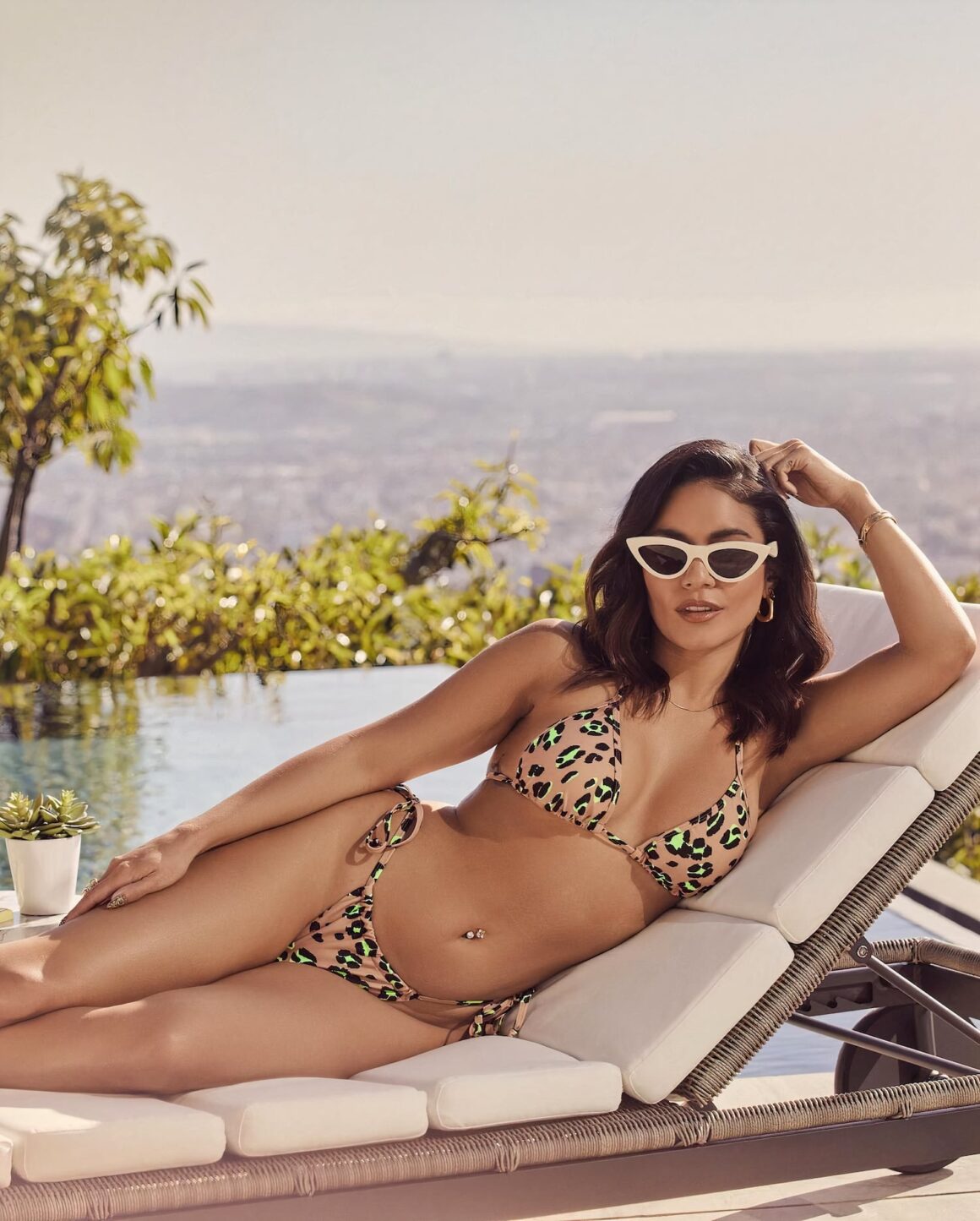 The swimwear pieces, which are also sold separately, are titled "Prowl String Bikini" top (New VIP$17.47; Retail Guest $44.95) and "Prowl String Bikini" bottom (New VIP$17.47; Retail Guest $44.95).
Vanessa Hudgens wore her collection, The Sun-Daze Collection, in a range of picturesque California locations in the new sun-drenched photos.
Her leopard print design also comes in crop top and leggings dubbed the "Amped 2-Piece" outfit (VIP $79.95; Retail Guest US$144.90).
The High School Musical actress proved she's a flexible designer with an eye for fit and comfort with a pale purple lounge set with a beautiful mushroom pattern called the Stellar 2-Piece Outfit (VIP $74.95; Retail Guest US$124.90) and a Grace Kelly-esque white halter tennis dress, Terry Halter Baby Doll Dress (New VIP $27.47; Retail Guest US$69.95).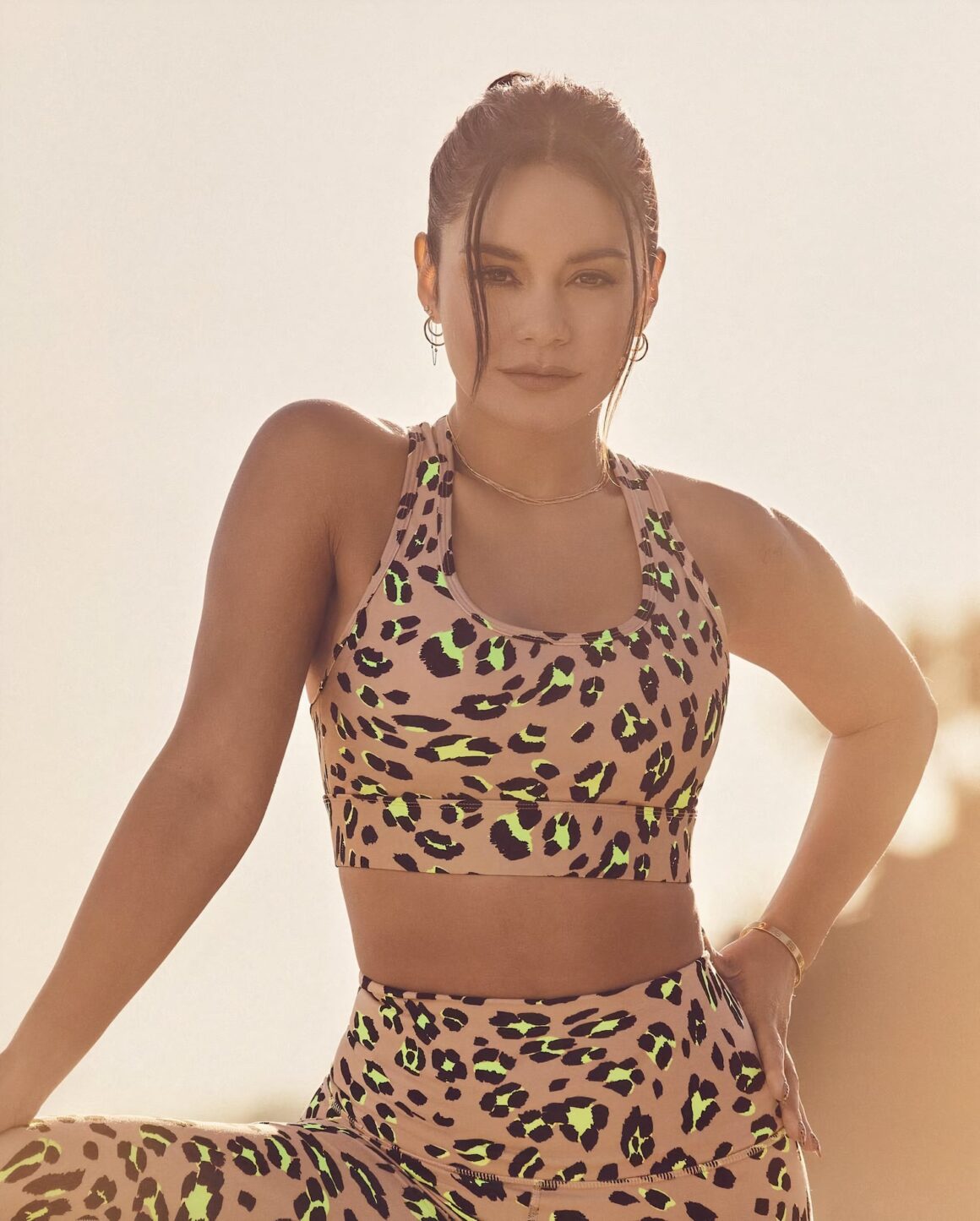 The Sun-Daze Collection is available for purchase on Fabletics online store at fabletics.ca.
Vanessa Hudgens rose to fame as Gabriella Montez in the High School Musical film series (2006–2008), which garnered her substantial mainstream success after her feature film debut in Thirteen (2003). The 33-year-old actress/singer signed a music contract with Hollywood Records after the success of the first film, and she recorded two studio albums with them, V (2006) and Identified (2008).
Fabletics, known for its affordable and trendy leggings, was launched by Kate Hudson in 2013 with business partners Adam Goldenberg and Don Ressler. In 2021, the company stated that Kate would be transitioning out of her role as the company's face and would instead serve as a strategic advisor and shareholder. Pop singer Demi Lovato and dancer Maddie Ziegler are among the brand's previous celebrity collaborators.