Popcaan was trending at the top on Twitter after his producer brother, Jelly Bads, was allegedly seen in an explicit footage online.
The Dancehall star seemingly reacted to his brother's "leaked video," in which many online users are claiming that the Jelly Records producer was spotted in a "compromising position" with a female partner.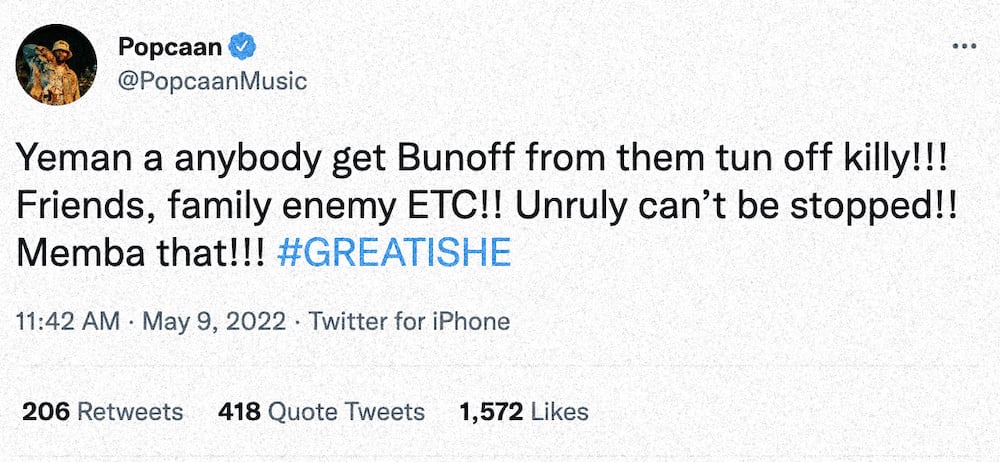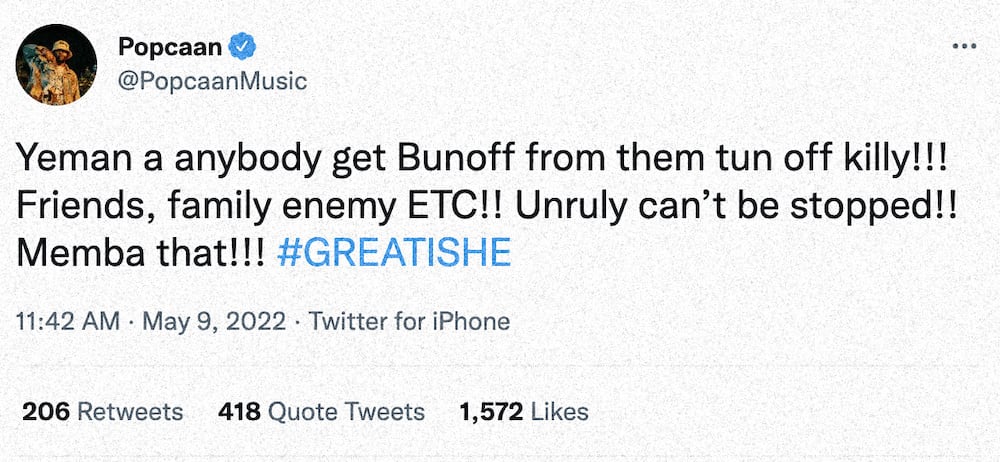 "Yeman a anybody get Bunoff from them tun off killy!!! Friends, family enemy ETC!! Unruly can't be stopped!! Memba that!!! #GREATISHE," Popcaan asserted on Monday (May 9) via the social networking platform.
With the controversial tweet, the 33-year-old deejay declared that he had cut ties with an unnamed individual, whether it's his "friends, family, enemy, etc.," whosoever he found to be unpalatable.
Even though Popcaan mentioned no names in his post, the general implication by social media users is that the "FIXTAPE" deejay is undoubtedly speaking of his brother, Jelly Bads, over the alleged footage that circulated last week.
It is no secret that cunnilingus is frowned upon in Jamaica, publicly at least. Similarly, the influence of Dancehall on sexuality is undeniable in the country's society. Scores of songs from numerous artists, from Shabba Ranks to Vybz Kartel, have always been clear about what is acceptable and utterly forbidden. Especially if the person performing it is a male, the act has been met with disdain and even threats of violence in the Dancehall music.
Neither Popcaan nor Jelly Bads has responded to the allegations. However, both men have apparently unfollowed each other on Instagram.
Popcaan's sister, Annalecia Sutherland, popularly known as Unruly Squid, has also seemingly reacted to the footage in support of Jelly Bads. She recently commented on an Instagram post, making it known that she "will never" forsake her brother.
She allegedly responded to a user who advised that she support her brother "in this time."
"I know you love your brother. Please be there for him in this time as nothing bout this to joke about," the person wrote, to which Unruly Squid reportedly replied, "I WILL NEVER turn my back on my brother!!!"
While Popcaan or his brother has yet to address the video, social media users have been bashing both the artist and the producer. Many music fans have since scrutinized the "Elevate" deejay as a hypocrite, while some criticized the producer for allegedly performing a "taboo" deed.
Some online users have also ridiculed Popcaan as he had previously rebuked oral sex in several of his songs including "So Bad," "RPG" and "Here To Stay." Besides, he reacted in January to Shenseea's racy song "Lick" with Megan Thee Stallion with disapproval on Instagram.
"Yyyyyyyyy," he commented on the singer's debut album promotional post, to which she responded, "Stop gwan like u nuh dweet."
Now, Some fans are of the same impression as Shenseea, taunting the "Firm And Strong" deejay on Twitter.
"Popcaan coming like the rasta dem weh no eat pork dem only eat the gravy," another added.
"Hot grabba hot grabba hot grabba!! *popcaan voice* 😂," another wrote.
"All mi want know is if him and popcaan Eva share spliff.. Cah the Bredda look like him experienced 😭😭 suh a long time ting," a third user expressed.
"Plot twist: The family can't trust Popcaan," another chimed in.
It should be noted that Jelly Bads was credited as the producer for several of Popcaan's songs including "My Type," "Billions," featuring Quada, "One Thing Alone," and "Blessings" with BakerSteez.
Popcaan, who recently signed a new management agreement with Since '93, is preparing to release his fifth studio album, "Great Is He."
The deal comes on the heels of his new track "Skeleton Cartier" on OVO Sound.
He is slated to perform at this year's staging of Wireless Festival at Outdoor at the NEC on Friday (July 8) along with Skillibeng and Shenseea.