Beenie Man has called it quits with the mother of his child, Krystal Tomlinson, putting an end to their 5-year relationship.
The couple announced their split on Instagram on Monday, January 18.
The Dancehall star, whose real name is Moses Davis, made the announcement first in a video clip via the photo-sharing social networking service.
In the video footage, captioned "Moving forward," Beenie Man is seen engaged in a discussion with several men before he briefly stops the conversation to update fans on his relationship status.
"Krystal Tomlinson and Moses Davis.. we are apart… we are not together anymore," he said.
"It is not because of any bad vibes or any disrespect. People just grow apart and life change, that's it. Me free and single and disengaged… she free and single and ready to engage," he explained.
The "Girls Dem Sugar" deejay then casually continues the conversation with the men before the video ends.
Krystal Tomlinson, who is president of the Peoples National Party Youth Organisation (PNPYO), released an introspective statement just minutes following Beenie Man's breakup announcement.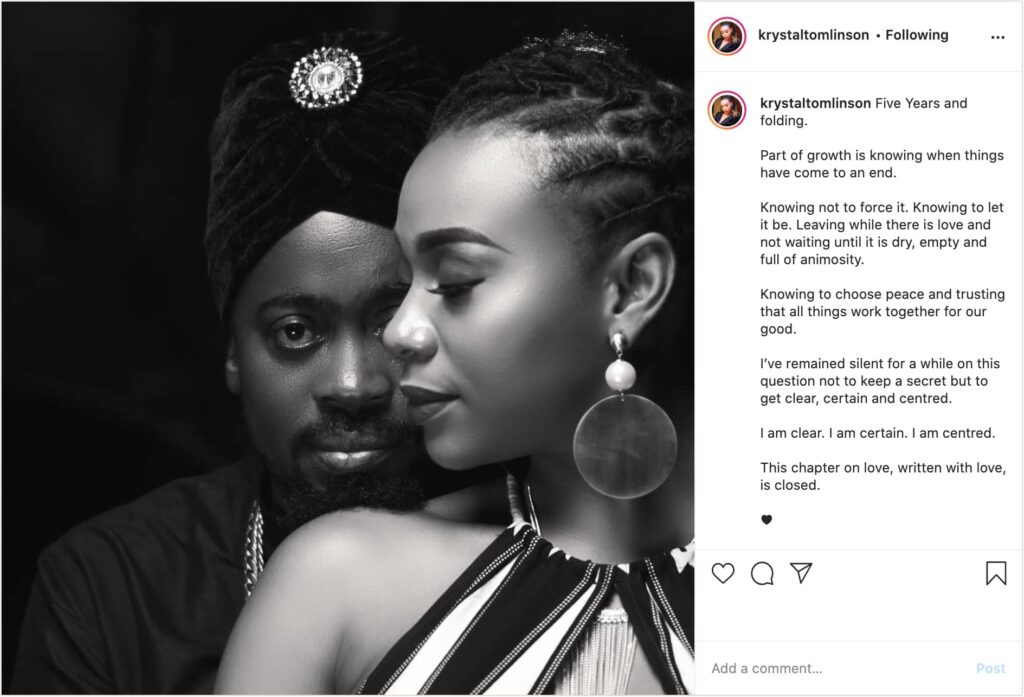 "Five Years and folding. Part of growth is knowing when things have come to an end," she captioned a photograph of herself with her ex-man on Instagram.
"Knowing not to force it. Knowing to let it be. Leaving while there is love and not waiting until it is dry, empty and full of animosity. Knowing to choose peace and trusting that all things work together for our good. I've remained silent for a while on this question not to keep a secret but to get clear, certain and centred. I am clear. I am certain. I am centred. This chapter on love, written with love, is closed. ♥️" she added.
Beenie Man and Krystal Tomlinson made their relationship public in 2016 and share two-year-old daughter, Xiah Amina.
Their breakup news comes a year after Krystal had stated that immediately after Xiah is capable of walking independently, the two would get married.