Shenseea has been added to the lineup of Pride Island in New York, an annual Pride Weekend event that honors the LGBTQIA+ community.
The Jamaican artist is slated to perform on Saturday (June 25). The 25-year-old entertainer joins the event's headliners, Lil' Kim and Kim Petra, along with Netta, Raye, and Papi Juice.
The three-day music festival, hosted by NYC Pride, is slated to take place on Governors Island's Play Lawn in New York City starting Friday (June 24). NYC Pride is a non-profit organization responsible for producing the official LGBTQIA+ Pride events annually in New York City.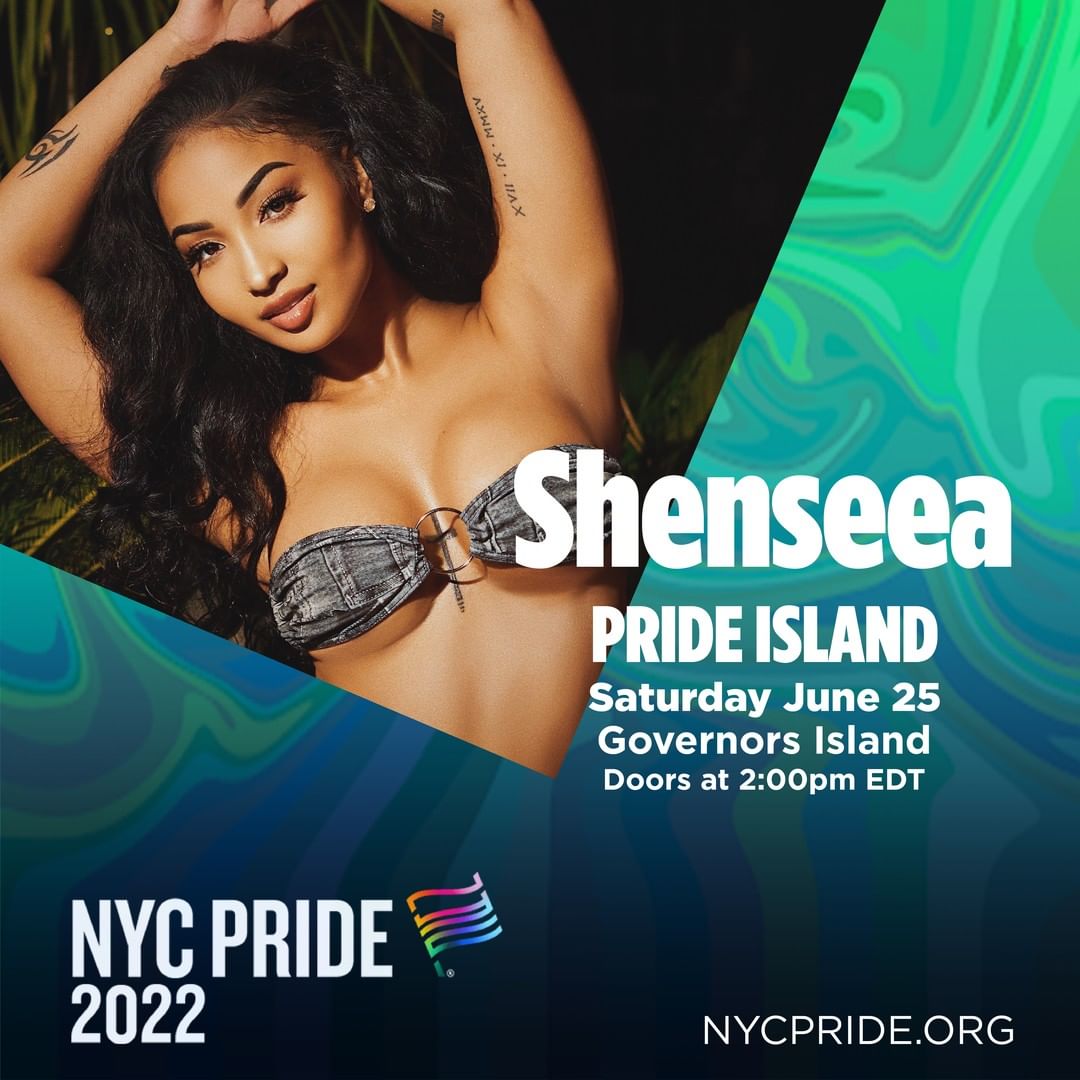 Shenseea is no stranger to the LGBTQ community. In 2018 during Jamaica Pride, the "Tie Me Up" singer posted a picture of herself wearing Pride-inspired suspenders and sneakers on Instagram.
"Alot of my supporters been messaging me in concern about how I feel for them being a #ShenYeng and having a certain preference… Today I just wanna represent and tell y'all that your sexuality doesn't matter to me 🙌🙌 I love all of y'all 😘😘❤ #forever #loveislove," she captioned the now-deleted post.
A year later, she released the music video for her single "Blessed," featuring Tyga, which shows a lingerie-clad Shenseea in bed with another woman.
Back then, her efforts to support the LGBTQIA+ community were perceived by many Jamaicans as a radical move in the Dancehall scene. Evidently, the "Lick" singer couldn't care less.
It should be noted that sex between two men is illegal in Jamaica. The country's laws do not criminalize the status of being LGBT, but instead, outlaw conduct based on its sodomy law (The Offenses Against the Person Act of 1864).
Shenseea is currently promoting her debut album, "Alpha." She recently released the music video for her 21 Savage-assisted track, "R U That."
Other Jamaican artists who have supported gay pride in recent times include Tifa, Yanique Curvy Diva (Yanique Barrett), Ishawna (Foota Hype's baby mother), D'Angel (Beenie Man's ex-wife), Jada Kingdom, Lila Iké, and Spice, with the latter being slated to be the headline act of the 2022 Pride Toronto festival next month.
LGBTQIA is an inclusive term that describes a range of sexual orientations and gender identities.
The acronym, LGBTQIA, stands for lesbian, gay, bisexual, transgender, queer or questioning, intersex, and asexual. LGBTQIA individuals routinely face challenges as a result of sexual and gender stereotypes, as well as the restricted social construct of gender. Growing awareness of the community's concerns has made specialist services addressing the unique problems faced by LGBTQ individuals, such as sex education, counseling, therapy, and celebration.
Three years ago, NYC Pride was the largest it's ever been as New York City celebrated the 50th anniversary of Stonewall and hosted World Pride, bringing millions together to celebrate and advocate for equality. For the past two years, Pride celebrations worldwide have been forced to become virtual thanks to the Covid-19 pandemic.
The New York City Pride festivals will take place this year during Pride Month (June 1st to June 30th), culminating in the celebrated NYC Pride March on Sunday (June 26).
Pride Island 2022 Lineup
Friday (June 24): Mo Heart and Kylie Sonique Love join the Pride Island "Drag Island" lineup.
Saturday (June 25): Lil' Kim, Shenseea, Netta, Raye, and Papi Juice join the Pride Island lineup.
Sunday (June 26): Kim Petras takes the stage on the closing night of Pride Island, featuring DJ Eddie Martinez, DJ Dani Toro, and DJ Alex Chapman.
For more information, visit: nycpride.org